Douglas Lee Saum
Sings

William Butler Yeats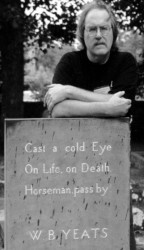 The full sweep of the poems of W. B. Yeats has now found musical form. For the last twenty-two years, Douglas Saum has been "laboring in ecstasy" creating and producing recordings of this material. He has performed these songs at Yeats themed gatherings in San Francisco, Reno, New York, Chestertown NY, Sligo, Dublin (Ohio), Dublin (Ireland), etc. With a cast of twenty to thirty musicians and speakers, Saum offers up nearly three-hundred pieces on nine CD's, all set to his original music.
On September 30, 1996 Douglas Lee Saum prepared for work as usual, shower, shave, daily vitamins, etc. When he looked at his Cuala Press water-colored litho of W. B. Yeats' poem "The Fiddler of Dooney," however, it ceased to be a normal day.
This day he did not just read the words, it was as if the poem sang to him. A clear, distinct melody rang out in his head as he read the first two lines.
"That's unusual," thought Douglas as he realized he was late and must leave. In the car, before he travelled the two miles to school where he taught English, the entire melody for this poem had presented itself. "Cool beans," he thought "but I'll never remember it."
To make the story short, he did remember it. In fact, in the next nine years he got quite used to the poems of W. B. Yeats singing their melodies to him. Not all of the poems, certainly, but about two hundred and seventy of them . . . so far. And so he began to record these songs and is sharing them with the world.
---
---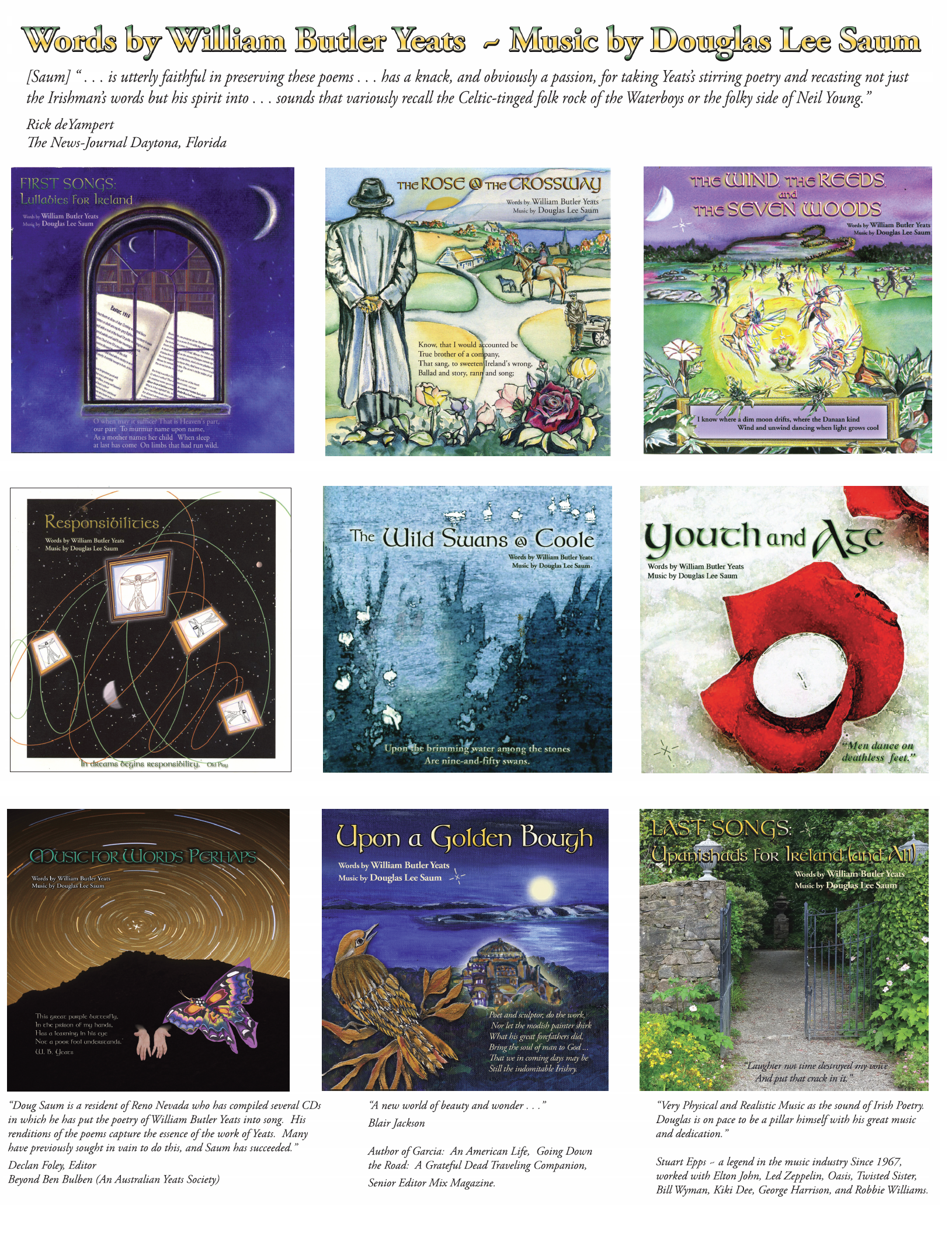 ---
Last Songs: Upanishads For Ireland (And All)

The latest cd from Douglas Lee Saum.

43 tracks, 2 CDs. Words by William Butler Yeats,
music by Douglas Lee Saum


You can order CDs directly from Doug through PayPal:

For International Orders email Doug directly at doug@yeats2music.com.

Douglas Lee Saum: Last Songs

Doug Saum's 2CD set comprises his musical arrangements for W B Yeats' poems. They open the listener to the reflective and wide-ranging nature of these last songs, their philosophy and insight. They are last songs not only for the poet but also for the composer in this final of 'Saum Sings Yeats' series...

—Roslyn Mackay, author of "W.B. Yeats and the Upanishads"

---

Press Reviews

"Doug Saum is a resident of Reno Nevada who has compiled several CDs in which he has put the poetry of William Butler Yeats into song. His renditions of the poems capture the essence of the work of Yeats. Many have previously sought in vain to do this, and Saum has succeeded."

—Declan Foley, Editor Beyond Ben Bulben (An Australian Yeats Society) .

---

"A new world of beauty and wonder . . ."

—Blair Jackson Author of Garcia: An American Life, Going Down the Road: A Grateful Dead Traveling Companion, Senior Editor Mix Magazine.

---

"Yeats believed that every soul sings a 'sweet crystalline cry.' Here is music which has at its heart that clear and indomitable cry."

---

". . . what an amazing achievement!"

—John Kavanaugh, Irish poet, playwright.

---

"Beautiful songs!"

—Tony Palmer, director of many films including Bird on a Wire, 200 Motels, and Cream's Farewell Concert.

---

[Saum] ". . . is utterly faithful in preserving these poems . . . has a knack, and obviously a passion, for taking Yeats's stirring poetry and recasting not just the Irishman's words but his spirit into . . . sounds that variously recall the Celtic-tinged folk rock of the Waterboys or the folky side of Neil Young."

—Rick deYampert, The News-Journal, Daytona, Florida.

---

"Very Physical and Realistic Music as the sound of Irish Poetry. Douglas is on pace to be a pillar himself with his great music and dedication."

—Stuart Epps -- Epps has been a legend in the music industry Since 1967, he has worked with Elton John, Led Zeppelin, Oasis, Twisted Sister, Bill Wyman, Kiki Dee, George Harrison, and Robbie Williams.

---

"Doug Saum's music for Beautiful Lofty Things demonstrates perfectly how images function as the catalyst for other art. Think of Rosencrantz and Guildenstern are Dead or Ahab's Wife, or more appropriately in this instance, what Beethoven did with Schiller's poem."

—Richard Londraville, author, Prodigal Father Revisited: Artists and Writers in the World of John Butler Yeats.

---

"Really well produced and thoroughly unusual. Kind of like Fairport Convention meets old W.B. Would make him and Richard Thompson proud!"

Oliver Trager -- Author of DIG INFINITY: The Life and Art of Lord Buckley.

---

"The Musicality of W. B. Yeats"

Essay by Douglas Lee Saum
in Yeats 150
Edited by Declan J. Foley

This remarkably wide-ranging collection honours the poet Yeats and those who have lectured and tutored across the world on the man and his work. The US, Canada, UK, Hungary, Japan, New Zealand and Australia are represented in the essays.

Douglas presented his essay at Trinity College in Dublin, Ireland in 2012.

---

Saum's Blog

"Wisdom is a butterfly." - W. B. Yeats


Follow the informal introspective exploration of what inspired Douglas Lee Saum to create his music publishing company, Barbarous Generation Music, and to write nearly 300 musical compositions dedicated to the words of William Butler Yeats.

---